Information Security, Cybersecurity, and Privacy Protection. Amendment to the PN-EN ISO/IEC 27001 Standard – PKN Conference
Content
Information Security, Cybersecurity, and Privacy Protection. Amendment to the PN-EN ISO/IEC 27001 Standard – PKN Conference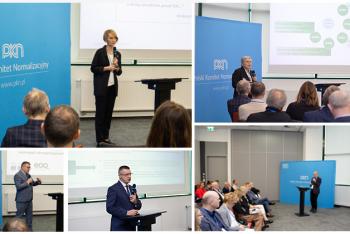 PN-EN ISO/IEC 27001 is the world's most recognized standard concerning the Information Security Management System (ISMS). In 2023, it was amended to better support efforts to ensure the security of data that needs protection.
On November 16, 2023, the PKN conference titled "Information Security, Cybersecurity, and Privacy Protection. Amendment to the PN-EN ISO/IEC 27001 Standard" took place at the WEST GATE Conference Center.
Representatives from PKN and invited experts discussed, among other things:
• Why active participation in international standardization is important in the context of cybersecurity and crisis management.
• Information security standards and the overarching purpose of the PN-EN ISO/IEC 27002:2023 amendment.
• The importance of supporting standards for the effective implementation of the requirements outlined in ISO/IEC 27001:2022.
• The amendment of the PN-EN ISO/IEC 27001 standard in terms of system requirements.
• Certification of individuals and management system certification in light of current accreditation requirements.
• The application of the PN-EN ISO/IEC 27001 standard in the process of building resilience in critical infrastructure in the context of the CER Directive.
Thank you for the numerous attendees, and we look forward to seeing you at the next PKN conference.