Webinar on the occasion of the Polish Standardization Day
Content
Webinar on the occasion of the Polish Standardization Day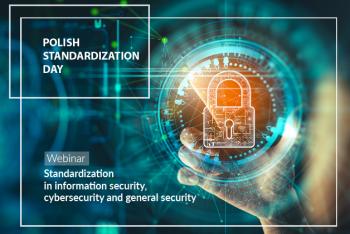 Cyber ​​security as well as general security covers all areas, activities and departments of any company or organization. But protecting yourself in the virtual world isn't easy. Cyber ​​criminals can come into possession of your personal data in many ways. They may even convince you to submit it voluntarily, if you are unaware that at this very moment you are falling victim to a scam.
On the occasion of the Polish Standardization Day, PKN organized the webinar "Standardization in information security, cybersecurity and general security".
During the webinar were discussed among others: relationship between standardization and information security and general safety; standards falling within this scope as well as the amendments introduced to them; standardization work at the European and international level regarding public safety; management systems in the context of cybersecurity; digital independence and the legitimacy of joining the standardization work at the international level.