Webinar of the Polish Committee for Standardization "Standardization at school"
Content
Webinar of the Polish Committee for Standardization "Standardization at school"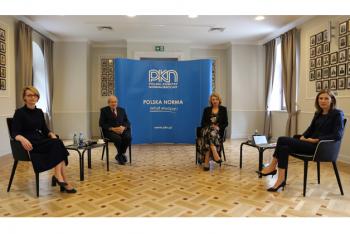 World Standardization Day and National Education Day create the best opportunity to merge the world of standardization with the world of education. Standardization has a huge impact on every area of our lives. The use of standardization knowledge in everyday practice and teaching means the use of proven, best and always state of the art solutions contained in Polish Standards.
In the era of changes and limitations caused by the SARS-CoV-2 virus pandemic, we have organized our conference this year for the first time in the on-line mode. We met on October 14th to talk about the standardization system in the context of education. The discussion was attended by Dr Eng. Tomasz Schweitzer - President of PKN, Ewa Zielińska – Vice President for External Relations and Sales, Teresa Sosnowska - Vice President for Standardization. The moderator of the webinar was Anna Komar - Director of the External Relations Department at PKN.
The President of PKN introduced the standardization system in Poland, paying particular attention to the fact that young people are not the only group that benefits from standardization. Standards are for everyone. Regardless of the chosen career path, we are always surrounded by them.
Vice President Ewa Zielińska detailed the legitimacy of introducing standardization in schools, and discussed the activities of PKN aimed at developing social awareness of standardization. She drew attention to many PKN initiatives aimed at young people - programmes, domestic and foreign workshops, competitions.
The practical use of standards in everyday and professional life was discussed by Vice President Teresa Sosnowska. She underscored the aspect of on-line mode of work which is so important nowadays, as our life has recently moved to virtual space. The President emphasized that the area of new technologies is developing rapidly, thus creating a new territory for standardization activities.
Education should be consistent with modern economy and development of entrepreneurship and qualifications necessary in professional work of each of us. The content of the standards is updated regularly. Standards always keep up with scientific and technological progress, and standardization determines the perspectives and opportunities for professional work within the national, European and international dimension, while taking into account various opportunities for personal development and career.