Polish Standardization Day 2018 - "Quality and food safety" conference
Content
Polish Standardization Day 2018 - "Quality and food safety" conference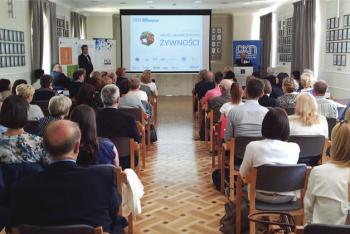 On May 20th this year - we celebrated Polish Standardization Day for the ninth time - an event honouring people and entities actively involved in standardization activities. On this occasion, PKN organized the conference "Quality and food safety".
The conference was held on May 23rd at the Banker's Club in Warsaw. The honourary patronage was assumed by: the Ministry of Agriculture and Rural Development, the Polish Centre for Accreditation, the State Veterinary Institute - National Research Institute, National Institute of Public Health - National Institute of Hygiene, National Association of Dairy Cooperatives Revisory Association and the National Food and Nutrition Institute.
During the conference there were discussed among others food quality and safety in the context of standards, microbiological requirements and criteria for food, legal regulations in the area of its safety and monitoring of biological and physical risk factors for food. The talks also encompassed subject of changes in the content of process impurities in food, validation of the risk of pathogenic bacteria growth in ready-to-eat food (RTE) and relativism of food safety. There was also an issue regarding the revision of the ISO 22000 standard in the context of benefits for an organization belonging to the food chain.
At the end of the conference, as it is the custom each year the PKN Award "Normalization Compass" was handed out. This year the awardee was Mr Władysław Moroń - long-term Chairman of KT 104 for Electromagnetic Compatibility and the Central Institute for Labour Protection – National Research Institute.