Content
Meeting of CEN/TC 52/WG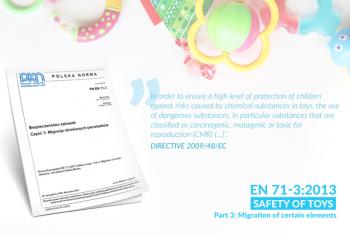 We usually associate safety of toys with lack of small parts easy to swallow by a small child or simply with a safe shape. The PN-EN 71 and its many parts present this issue in multifaceted way. There are specified in them, among others, requirements and test methods for mechanical and physical properties of toys, types of materials the use of which is banned as well as methods of flammability or migration of toxic elements and many other issues.
Between July 6 and 7, 2017 PKN held a meeting of CEN/TC 52/WG 5/TG 2 Safety of toys - Chemical properties - Migration of certain elements Task Group. The main aim of the meeting was to prepare the final version of EN 71-3 Safety of toys - Part 3: Migration of certain elements, so that it would be possible to carry out the initial laboratory tests. The agenda also included a discussion on the methods and results of tests, as well as organizational matters.
We hope that the work put forward will lead to next steps needed to develop and implement this standard as soon as possible, which aims at safety of our children.