THE FIRST MEETING OF STANDARDIZATION COUNCIL IN ITS 4TH TERM OF OFFICE
Content
THE FIRST MEETING OF STANDARDIZATION COUNCIL IN ITS 4TH TERM OF OFFICE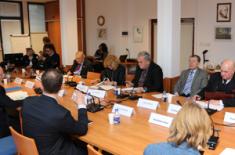 The first meeting of Standardization Council (SC) in its 4th term of office took place in Warsaw on February 5th 2016. Members of The Council are chosen through elections and nominations - once every four years. The term of the current SC will last until 2018.
Tomasz Schweitzer, the President of PKN, greeted the gathered and ceremoniously presented future council members with appointments and nominations. He wished the participants all the best and many rewarding meetings to come.
Then, the Presidium of the Council was elected by vote. Stanislaw Tkaczyk became again the SC Chairman. The members of the Presidium of the SC are: Otylia Trzaskalska-Stroińska, Piotr Gondek, Wojciech Januszko, Piotr Kamiński and Bogdan Tatarowski.
Present composition of the Standardization Council
Standardization Council is a collegiate, consultative and advisory body of the Polish Committee for Standardization.
The Council accepts annual reports on PKN activities submitted by the PKN President. The Council's tasks include issuing opinions concerning in particular:
Current state and trends of development of standardization,
Applications for setting up and disbanding national technical committees,
PKN internal regulations concerning development of standards and related documents,
Draft standardization documents developed with participation of PKN, on principles specified in PKN internal regulations.