AENOR high representatives visits PKN
Content
AENOR high representatives visits PKN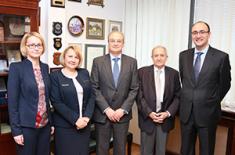 On 1-2 February 2016 two high representatives of AENOR (La Asociación Española de Normalización y Certificación), national standards body of Spain, paid a visit to the PKN.
During the meeting the Polish side was represented by Tomasz Schweitzer (President of PKN), Jolanta Kochańska (Vice-President of PKN for Standardization) and Ewa Zielinska (Director of External Relations Department). From the Spanish side attended Avelino Brito (Director General of ANOR) and Javier Garcia Diaz (Standards Director).
The main subject of discussion was the prospect of cooperation between two standards bodies and exchange of views on standardization policy. The effectiveness and efficiency of the European Standardization System as well as the Joint Initiative for Standardization prepared under the Strategy for the Single Market was also discussed. Additionally parties raised questions related to the criteria which has to be fulfilled by members of CEN and CENELEC.
Participants also presented the structure and pragmatics of functioning of their institutions and shared experiences concerning the introduction of the changes in national standardization systems.