PKN with training in Ukraine
Content
PKN with training in Ukraine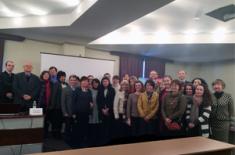 Polish Committee for Standardization since many years has been striving for the best possible cooperation with standards bodies of eastern neighbours. Such cooperation is in the interest of Polish companies operating in those markets.
One of the very important eastern partner is Ukraine, which since two years has been rebuilding it's standards institutions with the purpose to make them more like those operating in European Union. Construction of modern standards institutions which are in line with European requirements is not easy. It was the reason for which the Department of Technical Regulation of the Ministry of Economic Development and Trade of Ukraine last year asked PKN to carry out the training for a group of Ukrainian specialists, with a purpose to familiarize them with the principles of standardization activities applicable in Poland and EU.
Management of PKN welcomed this request, understanding the need to support of Ukrainian efforts to create a modern national standards body, which would be fully independent from the government, and which in the future could effectively represent Ukraine in the European Standards Organizations.
Alignment of the thematic scope of the training took place within the framework of tripartite consultations between the PKN, the Ukrainian Ministry of Development and the newly formed Ukrainian national standards body – State Enterprise "Ukrainian Scientific, Research and Training Center on Standardization, Certification and Quality Problems (SE "UkrNDNC"). Ukrainian side wished to learn more about issues of organization of standardization works, the principles of participation of Polish technical committees in international and European standardization works, as well as the principles of development of national standards of PKN. Ukrainians were also interested in IT solutions applied by PKN and rules of marketing used for selling standards in Poland.
Training for Ukrainian standardization specialists was conducted on 19-20 January this year in Kiev, at the premises of UkrNDNC. Three experts took part as speakers from the side of PKN: Alicja Haras, Zygmunt Niechoda and Tomasz Mazur.